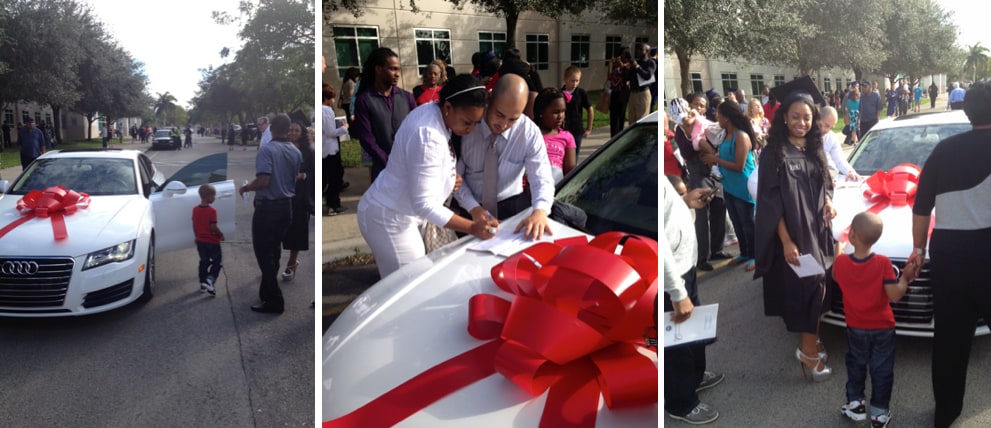 On December 6th, 2012 I delivered a 2013 Audi A7 with a big red bow at Florida Atlantic University to a 22 year old girl named Alexis Flagler who graduated with her Masters! I came out of the car and as Alexis walked up to me with watery eyes and the biggest smile, her friends and family stood behind her anxiously waiting. Right when I gave Alexis the keys I heard all her classmates and family members scream, clap, and cheer! I presented Alexis the keys and congratulated her on earning a degree and new car. Her mother and I signed the final paperwork and shook handsThese are the moments I will never forget. These cars are my passion. This is Audi.
Benny C (Audi Brand Specialist) - 2013 Audi A7
I would like to take this opportunity to recognize one of your dealer's car sales employees Mr. Amos Fernandez for his demeanor and professionalism during my recent purchase of a 2009 BMW 650 at Audi of lighthouse point. This is the most expensive USED vehicle I have purchased. His knowledge of the car market, understanding my personal situation and most of all his respectful treatment were very important for my decision of purchasing the vehicle. In many occasions we only take time to inform upper level management when something is wrong. Well I just wanted to let you know how wonderful my experience was. I would definitely recommend his services and your dealership.
Sincerely,
Nomar S.
I recently purchased a new 2012 Audi A7 from your Light House Point Facility, and I want to express to you the fact I had one of my better car buying experiences there, however that is not the purpose of this letter.

On Saturday October 8, 2011 I was playing ice hockey at Glacier Ice Arena just down the street from the Light House Dealership. Between 4pm and 5:10pm someone jacked my car up and stole the wheels and tires off my New A7, Also tried to break in causing some damage to the widow post and chrome strips above the passenger window, along with other damages from setting the car on single block on each side of the car. I was notified at approximately 5:15pm by one of the employees at the rink.

I went out to see I also placed a call to the service dept at Light House Point Audi, and was told it was closed but to call the 24 hr hot line, which I did, and got Paul Jensen. He had remembered me from a few days earlier.

I explained what had happened and he had me call Audi Road side assistance, and get a wrecker headed there, and he would figure out what to do about tires and wheels.
While I was on the phone with Road side Assistance Paul called backed to tell me to tell me to cancel the wrecker, he had a plan worked out.

He had one technician still at the shop and there was another A7 on the rack and they took the wheels off that car brought them over to my car so that we could drive my car to the shop.

Upon my arrival your sales group met me and had an A6 waiting for me so that I would have a car for the weekend. I was able to continue my scheduled evening within 45 minutes.
Mr. Qvale, I want you to know you have the Absolute BEST group of people working for you at the Lighthouse Point Facility. I have owned BWM's, Mercedes, Audi's, Infinities, Etc I have never experienced the kind of customer service provided to me by Paul Jensen, Albert Todd, the others, I don't have all their names in front of me , everyone I have come in contact with at that facility has made me feel like I am the number One Customer!!

When this happened I was in the beginning stages of moving back to Maine from Florida. This episode could have made things so much more difficult had it not been for Paul and his entire staff. I was able to make the move and last Friday I flew my son and wife back to Florida to pick up my car and drive it back to Maine.

I cannot thank Paul Jensen enough for everything he did for me throughout this whole ordeal.

Chip W. - 2012 Audi A7